Toxic
More photos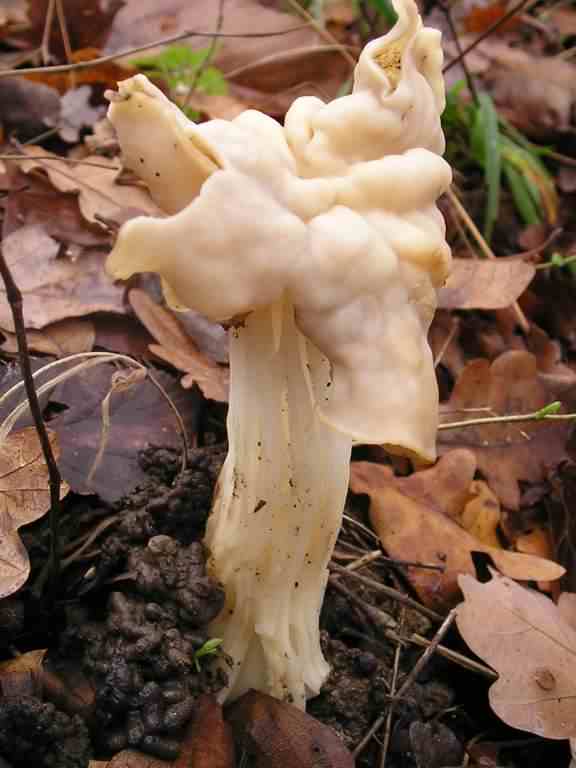 Photo ©2005 Strobilomyces
Click for a larger image
White Saddle - Helvella crispa
Family - Helvellaceae
Also known as - Elfin Saddles
A very odd looking distorted fungus of summer and autumn readily identified by its randomly shaped creamy white or pale yellow cap 3–8cm (1.2-3.2in) across, ornately fluted stem, and fuzzy underside. The saddle–shaped cap may have two or three major undulations and many minor curled contortions.
Widespread and fairly frequent in the UK and Europe, widely distributed in North America, it will be found from August until the end of November growing singly or gregariously under conifers and broad leaved trees, particularly Beech, Oaks, forest edges and woodland paths. The stem can be 3–10cm (1.2–4in) long; 0.5–3cm (0.2–1.2in) wide, white to slightly pinkish, ribbed, with cross–veins and pockets.
FBCP do not advise or recommend that White Saddle – Helvella crispa is eaten or used as an herbal remedy. White Saddle is listed as edible but it contains toxic Gyromitrin, noted as a poor quality edible, they must be well cooked to reduce toxicity.
| | |
| --- | --- |
| Click any photo for a larger image | Photo ©2020– |
---
Site design ©1999– Brickfields Country Park - Privacy -