More photos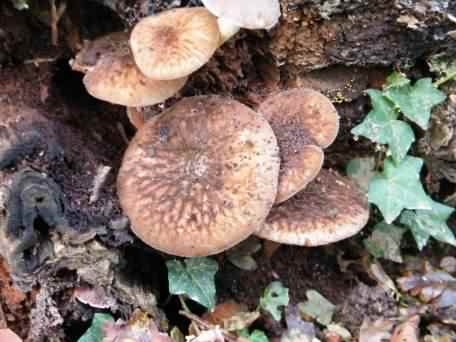 Photo ©2016–
Click for a larger image
Velvet Shield - Pluteus umbrosus
Family - Pluteaceae
Syn. Agaricus umbrosus Pers.
Found in late summer and autumn the Velvet Shield fungus can be found in the UK and Europe and has also been reported from North America. Widespread but far from common it is usually seen singly or in very small groups on rotting wood and the debris of broadleaf trees and occasionally on conifer stumps and tree chippings. Originally given the name Agaricus umbrosus as initially were a lot of fungi, it was later reclassified in to the genus Pluteus as Pluteus umbrosus. Although usually seen during late summer and autumn it may also be seen throughout most of the year if it is mild.
The cap at 4–9cm (1.6–3.5in) in diameter has an overall pale light brown colouration interspersed with ridged darker brown radial veins that split and double towards the very pale almost white edge, underneath the cuticle, the cap flesh is white and firm. The stem is 3–8cm (1.2–3.2in) long and 5–12mm (0.2–0.5in) in diameter and slightly bulbous at the base. The gills are white becoming pale pink with distinctive dark brown edges, broad and crowded and free of the stem.
FBCP do not advise or recommend that Velvet Shield – Pluteus umbrosus is eaten or used as an herbal remedy. It has an unremarkable taste and smell.
| | | |
| --- | --- | --- |
| Photos ©2016– | Close window | Click any photo for a larger image |
---
Site design ©1999– Brickfields Country Park - Privacy -