Toxic
More photos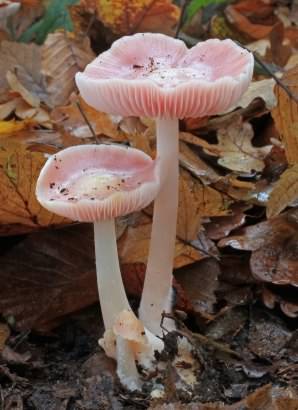 Photo ©2011 Stu's Images
Rosy Bonnet - Mycena rosea
Family - Mycenaceae
The Rosy Bonnet a widespread but uncommon large saprobic mushroom that is found throughout Britain and Ireland, northern and central mainland Europe, appearing in leaf litter beneath deciduous trees especially Beech, but will also be found in coniferous forests on acidic soil.
The cap initially has a convex shape before flattening out to growing between 3–6cm (1.2–2.4in) across and as its name suggests a pale rosy red colouration, but it can range to almost white as they age and dry out. Seen from August to November in the UK it can linger into the first frosts of winter. The broad gills of Rosy Bonnet are deeply sinuate and are reported to be bioluminescent, emitting a weak green light. The hollow stem tapers slightly towards the apex and there is no stem ring, it is downy at the base where it enters the leaf litter.
FBCP do not advise or recommend that Rosy Bonnet – Mycena rosea is eaten or used as an herbal remedy. Rosy Bonnet is not edible but apparently smells strongly of radish when crushed. It is a very attractive but poisonous species and should not be collected as it contains Muscarine, a toxic alkaloid that can cause hallucinations and convulsions.
Photos above©2011

Click any photo for a larger image
---
Site design ©1999– Brickfields Country Park - Privacy -