More photos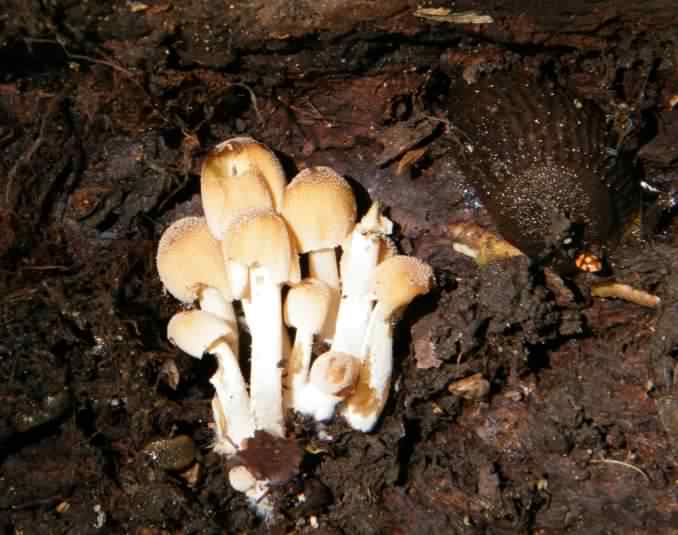 Photo ©2016–
Click for a larger image
Glistening Inkcap - Coprinellus micaceus
Family - Psathyrellaceae
Formerly - Mica Inkcap, Coprinus micaceus
The Glistening Inkcap is a common saprobic species in the UK, Europe, parts of Asia, Australia and America, found on tree stumps or buried wood of broad leaf trees, growing in reasonably sized clusters and rarely as solitary specimens from spring until early winter. Emerging as 2–4cm (0.8–1.6in) high egg shaped fruiting bodies marked with fine radial grooves, light brown at the top graduating to a white edge, on brittle white stems 3–6mm (0.12–0.25in) in diameter and 4–10cm (1.6–3.9in) tall.
At first the caps are covered in tiny white granules almost like a light dusting of salt as given by the "micaceus" part of its latin name. As the caps mature they become more bell shaped and darker, eventually decomposing becoming quite ragged and deliquescing. Similar to the Fairy Inkcap – Coprinellus disseminatus which grows in much larger groups but does not have the granules on its cap and is greyer in colour.
FBCP do not advise or recommend that Glistening Inkcap – Coprinellus micaceus is eaten or used as an herbal remedy. Apparently edible before it liquefies it is potentially poisonous if collected from roadsides or polluted land, where the mycelium can accumulate heavy metals and other toxins. Cooking will apparently stop the auto–digestion process.
Click any photo for a larger image

Three photos ©2012–
---
Site design ©1999– Brickfields Country Park - Privacy -