More photos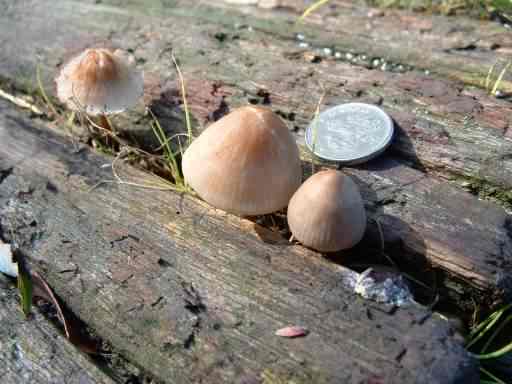 Photo ©2004–
Click for a larger image
Common Bonnet - Mycena galericulata
Family - Mycenaceae
A common fungi with a striated bell shaped or conical cap 20–50mm (0.8–2in) in diameter, pale edges becoming darker brown towards the centre on a smooth slender reddish brown rooting stalk up to 10cm (4in) high, the edges of the cap can curl up and become wavy in mature specimens. One of the larger members of the genus, the name is derived from "Galer", which means "helmet", referring to the bonnet–shaped caps.
Underneath the gills have inter–veining between and are white tinged pink when mature, broadly spaced and the spore print is white. A saprobic species, it is usually found on rotting hardwood trees and stumps in dense clusters or sometimes singly in the spring and autumn. A very common and widely distributed species.
FBCP do not advise or recommend that Common Bonnet – Mycena galericulata is eaten or used as an herbal remedy. Common Bonnet is not edible.
| | |
| --- | --- |
| Photos ©2004– | Click any photo for a larger image |
---
Site design ©1999– Brickfields Country Park - Privacy -