More photos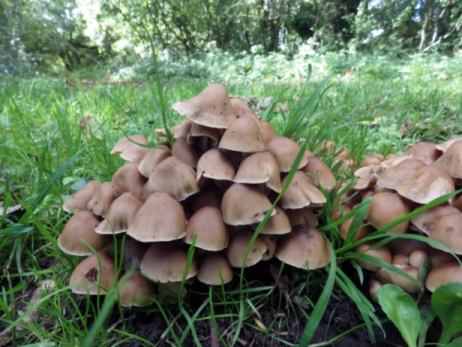 Photo ©2020–
Click for a larger image
Clustered Brittlestem - Psathyrella multipedata
Family - Coprinaceae
Also known as - Psathyra stipatissima
This species is one of several gregarious brittlestem fungi that will be seen in in tight groupings. They can be found in dense clusters in grassland, open woods, scrub, lawns and roadside verges growing in tufts from a common base on buried wood. Growing to 0.5–3cm across, a pale grey–brown small and conical or convex at first, lightening with age and becoming bell shaped with white edges. They are a Hygrophanous fungi so change colour when wet appearing darker and shiny. As they age they become lighter but generally they are a pale ochre when dry, often retaining a brownish centre. They grow to 10cm (4in) high on a thin white stipe (stem) which becomes slightly browner towards base, the stems fuse together at base to form clusters. Gills are adnate or adnexed light–brown, eventually turning dark brown.
It is widespread, but rare throughout the UK, also found in Europe and many other countries including North America. The genus name Psathyrella, means friable and alludes to the delicate crumbly nature of all parts of the mushroom, which is typical of the genus, and where they get the collective common name of "brittlestem mushrooms". It is a saprobic fungi that grows on rotting buried and fallen hardwood timber from June to November in the UK, ours was found under light tree cover in a grassy path.
FBCP do not advise or recommend that Clustered Brittlestem – Psathyrella multipedata is eaten or used as an herbal remedy. Clustered Brittlestem is regarded as edible but not worthwhile. With their insubstantial form and friability, it would take a lot of them to make a meal, so is probably not worth considering as a culinary collectible.
Several non–recommended synonyms for Psathyrella multipedata exist, these are:
Atylospora multipedata
Drosophila multipedata
Psathya fasciculata
Psathyra multipedata
Psathyra multissima
Psathyra stipatissima
---
Site design ©1999– Brickfields Country Park - Privacy -