More photos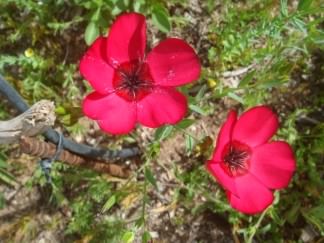 Photo ©2008 Miwasatoshi
Scarlet Flax - Linum Grandiflorum
Family - Linaceae
Also known as - Red or Crimson flax
Scarlet Flax is an annual flowering plant closely related to Cultivated flax – Linum usitatissimum of which differing varieties are used for cloth production and Linseed Oil. It is native to North Africa (Algeria), and Southern Europe and North America as an introduced species. Seen from early summer to late September it grows 36–60cm (14–24in) tall with erect, branching flower stems with narrow alternate lanceolate leaves 1–2cm (0.4–0.8in) long. Inflorescences of a mass of deep–scarlet glossy saucer shaped flowers on pedicels several centimeters long, each flower having five brilliant red petals each up to 3cm (1.2in) long that are often edged in black. five dark purple stamens ending in anthers with light blue pollen.
As popular garden plants there are commercial varieties grown for their varied colourful flowers which include; "Charmer" in shades of red, salmon, pale pink and white, with a darker centre; a white form - "White Diamond"; and a white with chocolate center - "right Eyes". Cultivated flax is a pale blue lined with a darker blue. Flax is very attractive to insects and birds who eat the oil–rich seeds.
FBCP do not advise or recommend that Scarlet Flax – Linum Grandiflorum is eaten or used as an herbal remedy.
Click any photo for a larger image

Photos ©2019–
---
Site design ©1999– Brickfields Country Park - Privacy -