More photos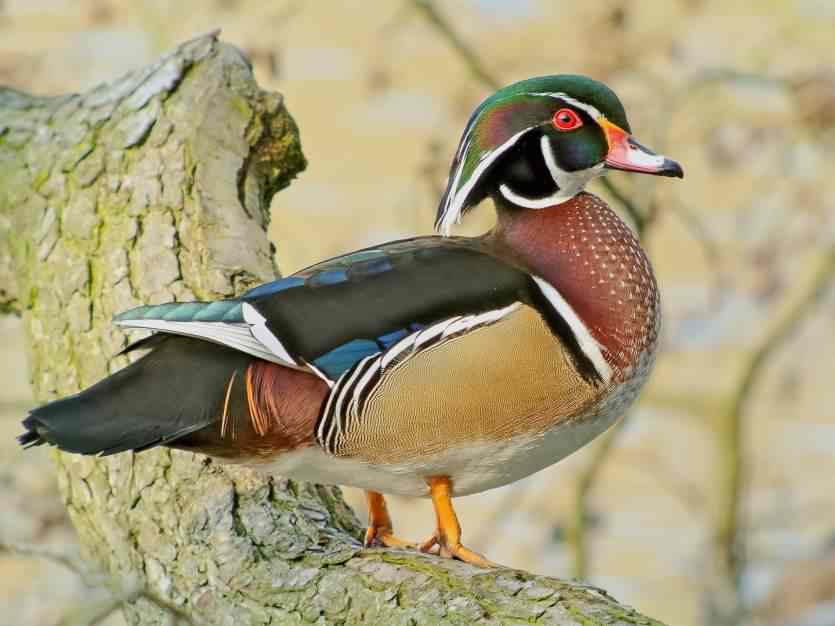 Male
Photo ©2012 Frank Vassen
Click any photo for a larger image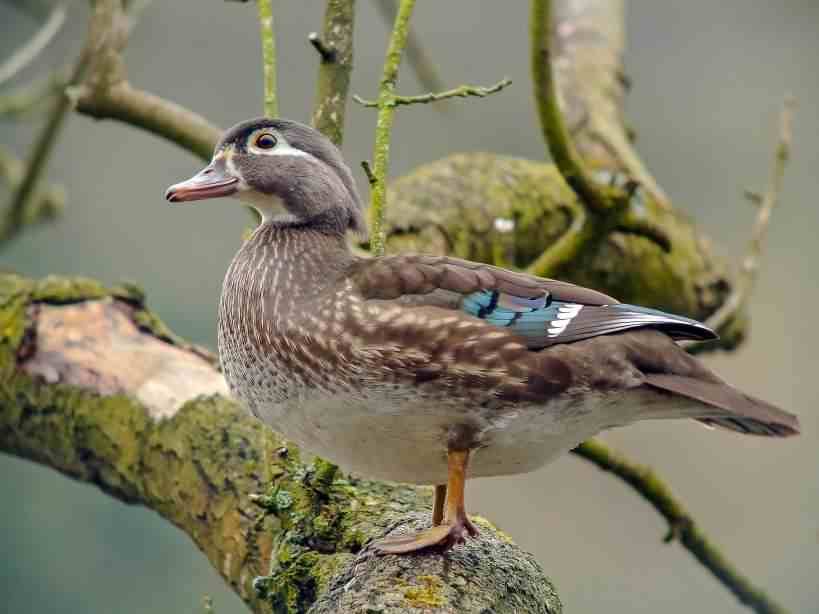 Female
Photo ©2012 Frank Vassen
Wood Duck - Aix sponsa
Family - Anatidae
Also known as - The Carolina Wood duck
This duck is a North American species that could possibly lay claim to be one of the most colorful ducks, certainly of the North American species anyway. It is a medium sized duck slightly smaller than a Mallard, adults are around 46–54cm (18–21in) long with a wingspan of 66–73cm (26–29in). Males have a distinctive multicolored iridescent plumage, green crested head, red eyes, a white front to the neck and a white partial collar. The almost drab female is an overall golden brown speckled lighter brown, a white eye–ring and a whitish throat.
In their native habitat they prefer riparian habitats, shallow lakes, marshes or ponds, streams to the west coast of the United States and western Mexico, nesting in tree cavities close to water. In southern locations they occasionally produce two broods in a season, laying 7 15 whitish brown eggs that are incubated for about 30 days. Newly hatched ducklings are able to fend for themselves shortly after hatching, omnivorous they eat insects, seeds and vegetation.
They are a popular bird in collections due to their colourful plumage and are occasionally seen in the UK as escapees, with one temporary population noted in Surrey, other records notes a small feral population in Dublin and listed as occasional but widespread in Britain. In their native range they suffered a marked decline from habitat loss and hunting both for meat and plumage becoming almost extinct at the beginning of the 20th century. Habitat protection legislation and ending unregulated hunting have seen an increase in numbers in latter years.
The specimen found on Brickfields pond during 2020 was identified by members of a local bird group as a leucistic female. Leucism results in a general reduction of colouring or the appearance of white patches in an individual, this is not the same as Albinism which is a total loss of melanin.


Three photos above of a Leucistic Female on Brickfields Pond ©2020–

Click any photo for a larger image



---
Site design ©1999– Brickfields Country Park - Privacy -