Brilliant Emerald dragonfly
Brilliant Emerald - Somatochlora metallica
Family - Corduliidae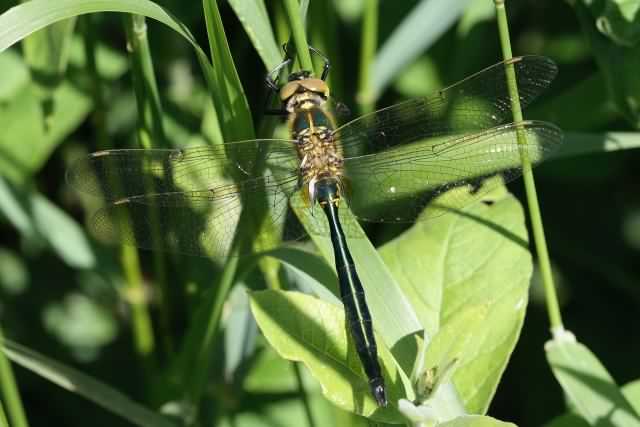 Photo ©2008 Loz
Click photo for a larger image
A dark metallic green dragonfly with distinctive yellow facial markings. Breeds in neutral to slightly acidic ponds, lakes, canals and small, slow–flowing rivers, usually where overhanging trees or shrubs are present. Males fly low and fast over water but females spend most of their time sheltering in vegetation away from breeding sites. Occurs in the UK in the central Highlands of Scotland, with a much larger population in Southern England including the Weald and the heaths of Surrey, North Hampshire and Berkshire. It is a northern species in Europe restricted to relict populations in the Pyrenees and the Alps. Its range extends eastwards to Asia Minor.
The Hants–Surrey border is the main English locality for this species. It can be found on shady lakes in the Blackwater Valley and the Aldershot area of the Basingstoke Canal. Adults now only seen in low numbers, 1993 count on the Basingstoke canal was 4, with breeding hatches confirmed in 1994. In the 1950's it was common along Basingstoke Canal from Frimley to Dirham, at Fleet Pond, Bramshill Park and Hawley Pond. In some years it could be seen on Farnborough streets.
The Brilliant Emerald Dragonfly is a listed species in the Biodiversity Action Plan for Hampshire as a regionally and locally important species of open standing water, heathland, acid grassland, bog and canals, with a stable population, locally rare with a high threat rating, no SAP currently exists for this species.
Description and data courtesy of The Blackwater Valley Partnership.
---
Site design ©1999– Brickfields Country Park - Privacy -