Toxic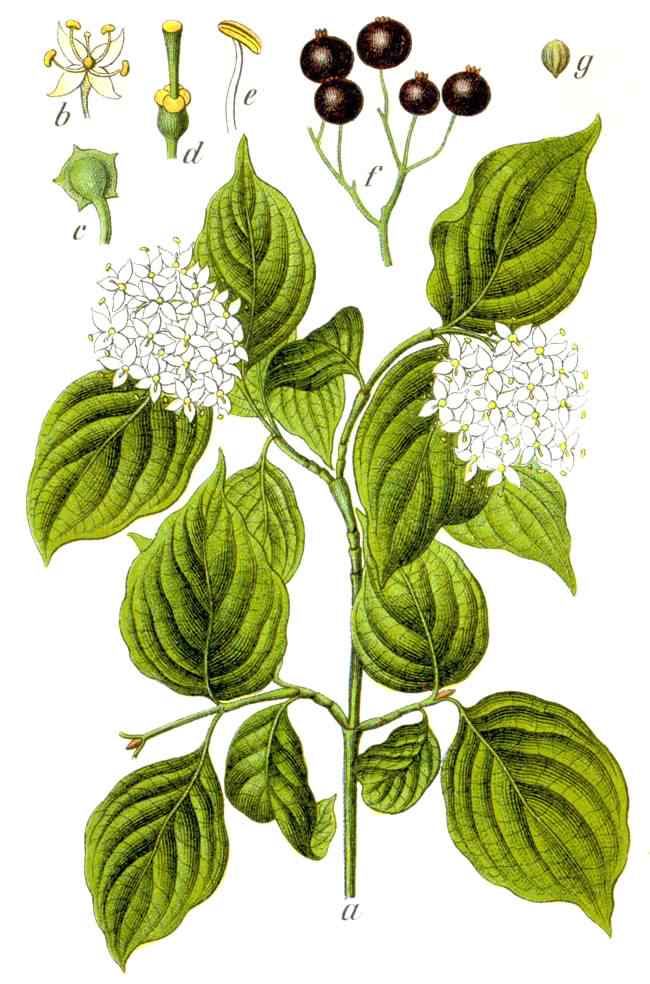 Drawing 1753 Jacob Sturm
Click any photo for a larger image


Photo ©2007 Donarreiskoffer
Dogwood - Cornus sanguinea
Syn. – C. latifolia, C. sylvestris
Family - Cornaceae
Also known as - Svida sanguinea, Blood twig
This plant is toxic
Cornus sanguinea, is a hedgerow shrub or small tree species of dogwood, native to most of Europe, North America, western Asia, common in Southern England growing to 4m (13ft) usually on chalk. Recognised by its red stems with opposing veined oval pointed leaves which are green above, slightly paler below, and rough with short stiff pubescence with red stalks. Clusters of creamy white hermaphroditic flowers 5–10mm (0.2–0.4in) diameter appearing May to July are insect pollinated and ripen to small black berries sometimes called "dogberries", 5–8 millimetres (0.19–0.31in) diameter, containing a single seed.
It is widely grown as an ornamental plant, and is especially noticeable in the winter when the leaves have dropped, by its sometimes dense clumps of red twigs and stems. Spreading by seed and stolons it can be quite at occupying favourable areas becoming very invasive. The flowers are a food source for some butterflies and the fruit are eaten by some mammals and birds. Related to Cornus alba, a North American variety with grey–green hairy leaves and bright red stems in the winter, some varieties are called "winter fire" from their orange autumn leaves and clusters of red stems.
FBCP do not advise or recommend that Dogwood – Cornus sanguinea is eaten or used as an herbal remedy. The berries are often regarded as poisonous, but they are more likely make you feel unwell if consumed as they are not edible.
---
Site design ©1999– Brickfields Country Park - Privacy -