More photos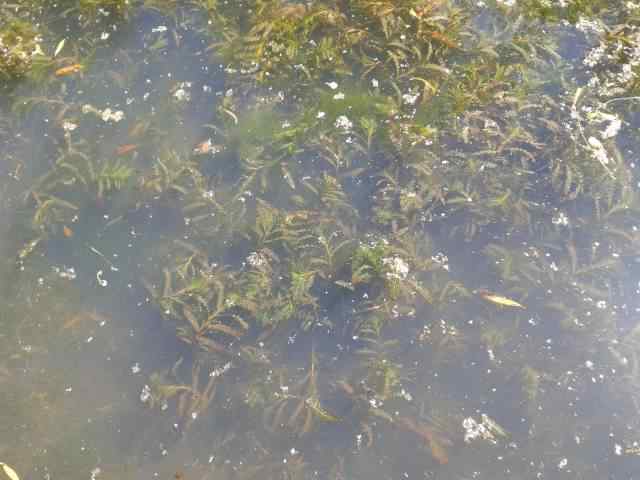 Photo ©2019–
Click for a larger image
Curly–leaf pondweed - Potamogeton crispus
Family - Potamogetonaceae
Also known as - Curly cabbage, crisp pondweed
Curly–leaf pondweed is a common and widespread species of mat forming aquatic plant growing in slow–flowing and standing water, small ponds and ditches. Native to the UK, Europe, Asia, Africa and the far east, but is an introduced species to New Zealand and a noxious weed in North America. It is a rhizomatous perennial herb with a flattened, branching stem structure up to a meter long. Dark or olive green to brown translucent alternate sessile leaves are linear to oblong in shape and totally submerged, 2.5–9.5cm (1–3.8in) long and 5–12mm (0.2–0.5in) wide with a wavy serrated edge, a distinguishing feature from other pondweeds. New growth plants may not exhibit the wavy edge. An inflorescence of a short spike of flowers shows above the water surface during June and July. Turions, buds, grow in the leaf axils and at the stem tips.
A variable water plant, P. crispus Hybridises with other pondweeds, but these do not usually resemble P. crispus. Considered an invasive species in North America. The plant grows well in non favourable conditions being tolerant of significant levels of nutrient pollution, out competing other water plants, sometimes displacing it. It is also cultivated as a garden pond plant which may then be spread to the wider environment from gardeners disposal of clogged ponds, it has proved invasive in some areas. It can be removed by cutting and raking from the water body but it will regrow from remaining roots and seeds.
FBCP do not advise or recommend that Curly–leaf pondweed – Potamogeton crispus is eaten or used as an herbal remedy. Plants for a future gives it a low edibility rating with no medicinal uses although some sources detail that the leaves are a diuretic and an infusion of dried leaves are taken internally in kidney problems.
Photos ©–

Click any photo for a larger image

Close window
---
Site design ©1999– Brickfields Country Park - Privacy -