Creeping Cinquefoil - Potentilla reptans
Family - Rosaceae
Also known as - Five–finger–blossom, Golden–blossom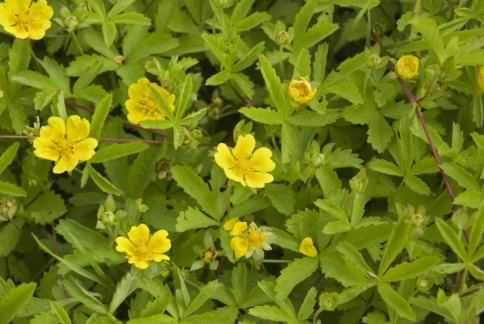 Photo ©2005 Olivier Pichard
Click photo for a larger image
Creeping Cinquefoil is a perennial which has a vigorous creeping habit and is commonly seen in grasslands, roadsides, cliff tops and in hedge banks on most soil types. It is a common and widespread native throughout the UK and Ireland except in the north of Scotland. The long, stalked, almost hairless (glabrous) leaves which are very similar in appearance to Strawberry leaves have between five and seven toothed leaflets. The flowering stalks bear solitary bright yellow flowers 15mm (0.6in) across with five heart shaped petals appear from June to October. It can be invasive as it spreads quickly by way of the creeping stems, which root at intervals forming new plants. Creeping Cinquefoil attracts solitary bees, whilst a Gall Wasp – Xestophanes potentillae, causes galls on the stems and rhizomes, and the Knot Grass moth – Acronycta rumicis, feeds on Cinquefoil.
Creeping Cinquefoil is one of many similar species found in the UK, Tormentil, often found on cliff tops as well as in hedgerows, is similar but has four petals, while the five–petaled flowers of Silverweed might possibly cause confusion with Creeping Cinquefoil. Silverweed is easily distinguished by its leaves, which have many more pairs of leaflets and are silvery, at least on the underside and often on top as well. The common English name Cinquefoil describes the fivefold arrangement of leaflets in this plant, and the second Latin name describes its habit, creeping, the stem lying quite flat.
FBCP do not advise or recommend that Cinquefoil – Potentilla reptans is eaten or used as an herbal remedy. In the fourteenth century the Common Yellow Cinquefoil was used and reputed to be a cure for stomach complaints. Like Tormentil it is an astringent and used in dysentery and also used for tanning. Tea used for curing fevers was made with the Common Yellow Cinquefoil.
---
Site design ©1999– Brickfields Country Park - Privacy -