More photos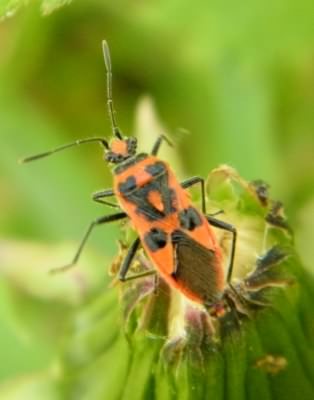 Photo ©2012–
Click for a larger image
Cinnamon Bug - Corizus hyoscyami
Family - Rhopalidae
Also known as - Black & Red Squash Bug
Found over most of Europe, Corizus hyoscyami is a hairy scent–less plant bug that is relatively rare in the UK but is becoming more prevalent. Currently mainly seen in the South, no records have yet been found above a line between Liverpool - Grimsby, bit it is gradually traveling northwards. Adults are between 9–12mm (0.35–0.47in) long, overall red, black–dark brown markings of four spots, two of which are joined and interspersed with a black triangle with red central central oval. It has black shoulders and eyes, a red snout, black three segmented antennae with red tips, rounded at the rear with another black–brown triangle with the apex pointing to the apex of the interspersed triangle.
C. hyoscyami ssp. hyoscyami bears a passing resemblance to the Firebug – Pyrrhocoris apterus, but this bug only has two black spots and one main black triangle, the second rear triangle mark has a pointed curved apex. Seen together the differences are distinctive. Various references put Corizus hyoscyami as a southern coastal species favouring sandy habitats, but more frequently inland, ours in Brickfields Park are just short of 42 miles from the South Coast. Adults are seen all year in dry habitats, meadows and gardens associated with a range of plants, they are mainly active April to October with the years new generation seen August - September, Nymphs are yellow brown and hairy.
Two subspecies are listed –

C. hyoscyami ssp. hyoscyami

- third and fourth abdominal tergites are red. Seen in most of Europe.

C. hyoscyami ssp. nigridorsum

- third and fourth abdominal tergites black. Seen in Spain, Italy, Morocco and Tunisia.

Photo above ©2012–



Click any photo for a larger image




ssp. nigridorsum

Two photos above ©2011 Hectonichus
---
Site design ©1999– Brickfields Country Park - Privacy -