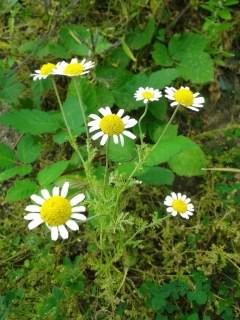 Photo ©2019–
Click any photo for a larger image


M. Vogtherr - 1898
Roman Chamomile - Chamaemelum nobile
Family - Asteraceae
Syn. - Anthemis nobilis
Also known as - English Chamomile
A perennial plant of dry areas, roadsides, disturbed bare ground, fields, in gardens as an ornamental plant and on cultivated areas of the UK, Europe and the Americas. It is a Daisy like plant with a compound flower head and finely divided leaves. The solitary terminal flowers are 2–4cm (0.8–1.6in) across with a prominent and dense domed yellow capitulum, multiple white ray petals with finely toothed ends. It is an introduced and widespread plant in the Americas, Africa, Australia and New Zealand, it is also widely used as an ornamental plant.
They are usually seen during June through to early August and look very similar other Daisies and Chamomiles. The flowers, whose fragrance is supposedly similar to that of apples, are at the ends of procumbent stems 20–30cm (8–12in) high with alternate bipinnate leaves, and downy to glabrous.
Legend for the lower image:
A: Whole plant.
1: Flower.
2: Flower, longitudinal cut.
3: Ray bloom.
4: Tubular flowers with support leaf.
5: Tubular flowers, longitudinal section;
6: Stamen;
7: Stylus tip.
8: Cup base with chaff leaves, longitudinal cut, flowers removed.
9: Chaff sheet, exterior view.
10: Fruits (enlarged and x1).
11: 12: Fruit, longitudinal section.
13: Fruit, cross section.
14: pollen grains.
FBCP do not advise or recommend that Roman Chamomile – Chamaemelum nobile is eaten or used as an herbal remedy. It is one of the constituents of many common Chamomile herbal products, including Matricaria chamomilla, commonly called German Chamomile.
---
Site design ©1999– Brickfields Country Park - Privacy -