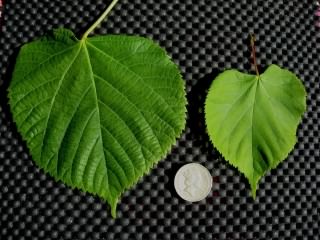 T. platyphyllos (left) and T. cordata
Photo ©2015 Ptella
Click any photo for a larger image


Large Leaved Lime front and back
Photo ©2016 Zoya Akulova
Broad Leaved Lime - Tilia platyphyllos x cordata
Family - Malvaceae
Also known as - Common Lime, Large Leaved Lime
Lime trees, which are not related to Lime fruit trees, also known as Linden in North America, are native to the temperate regions of the Northern Hemisphere. Large Leaved Limes are from a genus of around 30 Tilia species of deciduous trees, growing to around 20–40m (66–134ft) tall. Relatively common the UK and Europe the genus has the most diversity in Asia; in the UK it has been planted as an ornamental for its mass of foliage but will also be found in woodland. The cultivar "Rubra" has gained the Royal Horticultural Society's Award of Garden Merit.
The flowers of Large Leaved Lime hang in small bracts of 4–10; they are a greenish yellow, have five petals and are hermaphroditic. Pollinated by insects, the nectar rich flowers develop into oval smooth fruits with pointed tips. alternate heart shaped leaves 6–20cm (2.4–8in) across have a pointed tip, are a smooth dark green above and a lighter green below, finely hairy which feels rough to touch. Large Leaved Lime Tilia platyphyllos readily Hybridises with the Small Leaved Lime T. cordata, the result being the Common Lime T. x europaea (syn. T. x vulgaris). This similarity between species and hybrids can lead to confusion in identification.
FBCP do not advise or recommend that Broad Leaved Lime – Tilia platyphyllos is eaten or used as an herbal remedy. The flowers are used for herbal teas and tinctures, and an important nectar source for beekeepers. Flowers, leaves and bark are used to treat a variety of aliments.
Limes in general have an important usage for wildlife. The leaves are eaten by the caterpillars of many moth species, the nectar producing flowers are very attractive to bees and aphids who then are a source of food for their predators, including ants, hoverflies, Ladybirds and birds.
---
Site design ©1999– Brickfields Country Park - Privacy -