Wavy Bittercress - Cardamine flexuosa
Family - Brassicaceae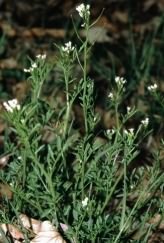 Photo ©2006 Fornax
Click photo for a larger image
Wavy Bittercress is a straggly perennial or biennial weed growing from February to late October, to 30cm (12in) high on zigzag and wavy stems from a basal rosette of many pinnate leaves and stem leaves. Found throughout the UK and Europe on damp shady disturbed ground, stream banks and wet fields, it is difficult to eradicate in a garden environment as pulling or digging the plant invariably sets off the seedpods.
The stems of Wavy Bittercress are hairy unlike those of Hairy Bittercress which are not hairy! Very small white flowers 3–5mm (0.1–0.2in) across with four petals and six stamens mature to a very long thin cylindrical and slightly curved seedpod. The seedpods explosively disperse the seeds over a large area. Hybridises readily with Cuckoo Flower to which it is related.
FBCP do not advise or recommend that Wavy Bittercress – Cardamine flexuosa is eaten or used as an herbal remedy. In some North Indian states it is used as a garnish.
---
Site design ©1999– Brickfields Country Park - Privacy -