More photos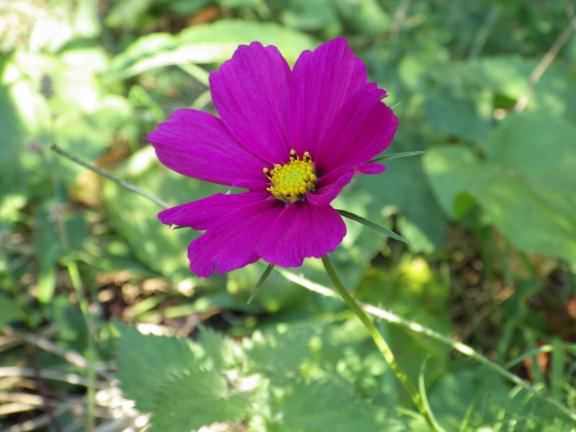 Photo ©2019–
Click for a larger image
Mexican Aster - Cosmos bipinnatus
Family - Asteraceae
Also known as - Cosmea
Cosmos as a genus can be annual or perennials with simple or pinnately divided leaves and large, long–stalked daisy–like flowers in summer. Mexican Aster however is an upright bushy annual capable of growing to 2.5m (8ft), with very feathery and finely divided, mid–green leaves, and large flowers to 8cm (3.2in) across, in colours ranging from white through pink to dark purple surrounding a central disc of compactly clustered, yellow florets. Flowering from summer into autumn until frosts occur. There are many cultivars. As its name might suggest the Mexican Aster is native to Mexico and southern USA where it is native to roadsides, waste ground and disturbed areas, it can be found almost world wide as an imported and popular garden flower of which three are generally seen – Mexican Aster C. bipinnatus, Yellow Cosmos, C. Sulphureus with yellow flowers and Chocolate Cosmos Cosmos atrosanguineus named from its chocolatey smell rather than it's brown colouration.
The flower heads which are borne singly on long stems (peduncles) are usually 5–7cm (2–2.8in) across and larger in selected varieties. They mature to long brown seeds produced in such large number to make this plant a weed in some areas. The "bipinnatus" means twice pinnate, referring to the twice divided foliage of the plant.
FBCP do not advise or recommend that Mexican Aster – Cosmos bipinnatus is eaten or used as an herbal remedy.

With Poppy and Wild Carrot

Leaves
Photo ©2006 Ram-man

Photos ©2019–

Click for a larger image
---
Site design ©1999– Brickfields Country Park - Privacy -