Toxic
More photos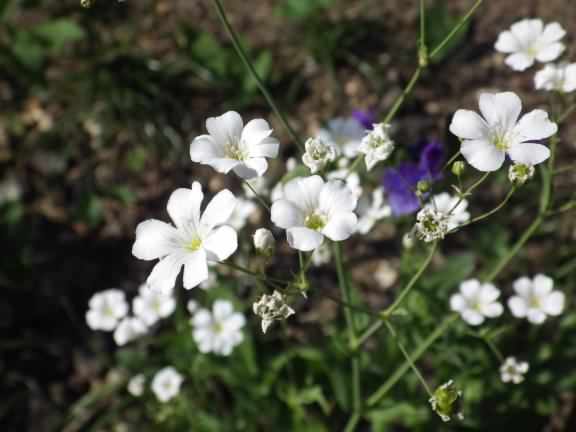 Photo ©2019–
Click for a larger image
Annual Baby's–breath - Gypsophila elegans
Family - Caryophyllaceae (Pinks)
Also known as - Showy baby's–breath
Annual Baby's–breath is an annual or perennial (variety dependant), ornamental plant native to Western Asia and Eastern Europe but widely planted and naturalised in may areas, usually seen in flower during July and August. It grows to a height of 20–50cm (8–20in.) on thin branching stems with thin glabrous clasping lanceolate pale green leaves resembling those of Mistletoe growing from the stem nodes. Bright white flowers 1.5–2.5cm (0.6–1.0in) across with five petals and ten stamens, occasionally six petals and twelve stamens. A widely used cut flower in floristry industries for its bright white flowers, other varieties of baby's breath are purple, pink, red and salmon.
The scientific name Gypsophila, means "likes gypsum" referring to its preferred habitat, gypsiferous soils which many of the genus grow well in, also in nitrogenous soils. With their well developed rootstock they grow well in dry rich sandy or moraine soils with good drainage, the roots contain saponins, organic compounds which in the past have been used for washing textiles. With this deep root system, plentiful seed supply and fast growth rate in poor ground, it is now considered a noxious and invasive weed in the United States and Canada.
FBCP do not advise or recommend that Annual Baby's–breath – Gypsophila elegans is eaten or used as an herbal remedy. Gypsophila as a genus contains the toxin Gyposenin which has been linked to cases of mild poisoning in dogs, producing diarrhoea and vomiting if consumed.
Photos ©2019–

Click any photo for a larger image
---
Site design ©1999– Brickfields Country Park - Privacy -